Enquiry and Information Service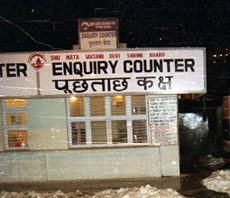 To help the yatries and offer assistance during the pilgrimage, the Shrine Board has operationalized information booths at various locations. These are 24-hour information cum enquiry counters. Yatries can use them to obtain important information about various aspects of the Yatra. These counters also serve as announcement booths and pilgrims can approach these booths to get announcements made regarding missing children or group members. These booths are connected with other important locations through a wireless network and thus an announcement made at one location can be passed on to all other important locations also. These booths are also used to relay pre-recorded Bhajans and important Yatra related messages for the benefit of the yatries. Besides, do's and don'ts and other useful tips are also relayed through these booths. These inquiry, assistance and announcement booths are located at prominent locations at Katra, Adkuwari, Himkoti, Sanjichhat and Bhawan.
The counter at Katra is located near the main Bus Stand. The one at Bhawan is located near the gate no. 1. Other booths too are prominently located. Information Counters are also operational at General Bus Stand, Jammu and Jammu Tawi Railway Station. An Information Counter is also proposed to be set up at the Jammu Airport.